FATMAP, APLICACIÓN N.º 1 PARA DEPORTES EN MONTAÑA
Si tuviésemos que recomendarte una sola aplicación, ¡sería esta! Ergonómica y completa, FATMAP es la aplicación n.º 1 para los deportes en montaña.
Gracias a FATMAP, podrás planificar tu itinerario por la estación de esquí, ubicarte fácilmente con su sistema de seguimiento y guardar tu recorrido por las pistas. Desarrollada por expertos locales, la versión gratuita de la aplicación incluye una descripción muy detallada de los diferentes itinerarios (pistas, trayectos fuera de pista y senderos) con información práctica: grado de dificultad, descripción de itinerarios y características (altitud, distancia e inclinación).
Con FATMAP EXPLORE (la versión de pago), podrás consultar mapas topográficos oficiales y analizar el terreno capa por capa para tomar las decisiones más oportunas y esquiar sin correr ningún riesgo. Además, podrás descargar tus mapas con antelación para consultarlos cuando estés en la pista de esquí si allí no vas a tener acceso a Internet o hacerlo en modo avión para ahorrar batería.
>> Descargar la aplicación desde Google Play Store
>> Descargar la aplicación desde App Store
Gracias a nuestro acuerdo con FATMAP, puedes beneficiarte de un 30 % de descuento en FATMAP EXPLORE (20,99€ en vez de 29,99€).
APLICACIÓN DE TU ESTACIÓN
Muchas estaciones de esquí disponen de su propia aplicación móvil, como Chamonix, Serre-Chevalier, Tignes… Aparte de la información sobre los remontes mecánicos (precio de los forfaits, horarios y plano de pistas), incluyen todo tipo de información práctica sobre la vida en la estación: comercios y restaurantes, actividades o transportes. Otra ventaja es el acceso a las webcams para ver las condiciones metereológicas en tiempo real y la existencia de una pestaña de «Socorro» para enviar tu geolocalización precisa (latitud y longitud) a los servicios de salvamento de la estación. En algunas estaciones, como la de Chamonix, también informan sobre el estado de la carretera e incluyen un acceso directo a Ski+ para registrar tus proezas y poder retar a tus amigos en las pistas.
UNA BUENA APLICACIÓN METEREOLÓGICA
Por último, si quieres disfrutar al máximo de tu estancia y anticipar tus actividades y desplazamientos, ¡no te olvides de instalar una buena aplicación metereológica en el móvil! En el mercado hay mucha variedad. Hace unos meses, te recomendábamos 3: Weather Forecast, Accuweather y Windy. El artículo completo está aquí.
SOBRE TODO, ¡APUESTA POR UN MÓVIL RESISTENTE AL FRÍO!
Todas estas aplicaciones son muy útiles, pero necesitas un teléfono móvil que siga funcionando en cuanto el termómetro baje de los cero grados. No corras el riesgo de quedarte desconectado en pista y apuesta por un móvil CROSSCALL. El diseño de nuestros teléfonos está pensado para resistir a temperaturas extremas: -25° para CORE-X3 y ACTION-X3 et y hasta -40° para TREKKER-X4. Si decides pasar la noche en un refugio, la batería externa X-POWER, te permitirá prolongar el uso del móvil porque duplicará la autonomía del teléfono.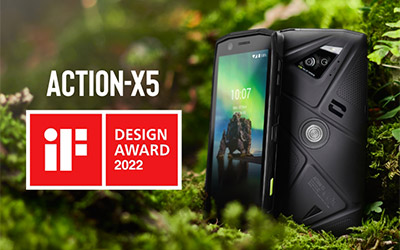 El smartphone ACTION-X5 de Crosscall, el más reciente y que viene equipado con cámara deportiva, obtuvo el prestigioso premio iF Design Award 2022 en el área «Diseño de producto» de la categoría «Telecomunicaciones».
To coincide with launch of the CROSSCALL Class40 monohull, the French mobile brand has unveiled a sleek new look. Developed in collaboration with the Saatchi & Saatchi advertising agency, the new brand identity focuses on two key aspects of Crosscall's DNA: difference and durability.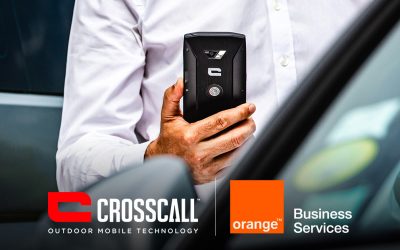 En el marco de la licitación que realizó el Ministerio del Interior francés, la Gendarmería y la Policía nacional de Francia seleccionaron a Crosscall y Orange Business Services con el fin de equipar a todas sus fuerzas operativas.