UTMB®
AUGUST 26th – SEPTEMBER 1st 2019
Chamonix, France

Chamonix, France
AUGUST 26th – SEPT 1st 2019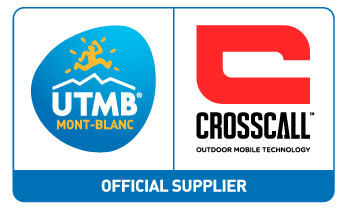 About
Every year since 2003, the attention of fans and aficionados of the Trail turns to Chamonix, the arena for the discipline's more revered event. 1 event, 3 countries, 5 trials, 8 000 runners, 16 000 supporters and above all unforgettable experiences to be shared before, during and after the endeavour.
THE PROGRAM
As an official provider of UTMB®, Crosscall will be present at Chamonix for the whole week. The outdoor mobile technology leader will put its range on display and offer visual entertainment for runners and those close to them. This year CROSSCALL will be providing the UTMB® ALL SUPPORTERS operation where friends and loved ones can encourage their runners via a video message which will be broadcast to them during UTMB, TDS and CCC (see below)

The UTMB® ALL SUPPORTERS operation was offered for the first time during the 2017 race, and returned with great success in 2018. Broadcast to runners on UTMB, CCC and for the first time TDS, messages from the world over will surprise, touch and give a needed boost to these ultra-trailers on their Mont Blanc adventure.
Families and friends of the runners, do not hesitate to send your messages of encouragement for the 2019 edition!