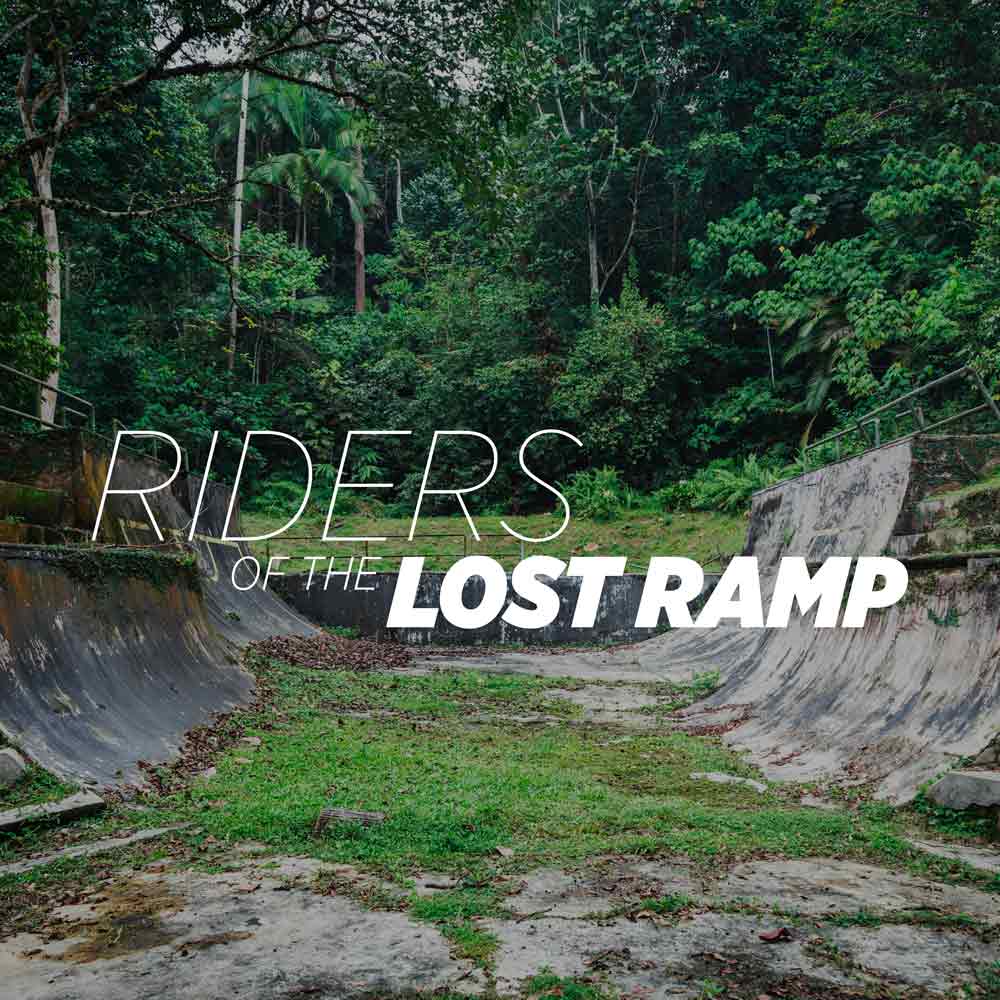 SO FING ALLES AN…
Ein einfacher Artikel, der die Legende in Umlauf bringt. Es gäbe in Malaysia eine verlassene Rampe mitten im Dschungel. JC Pieri, Spezialist für Outdoor- und Extrem-Videos, gibt den Anstoß, indem er uns den Artikel von rideukbmx.com zeigt. Das Timing ist perfekt, das Team von Crosscall zögert nicht eine Sekunde und schnappt sich seinen Botschafter Daniel Dhers für einen Trip zum Ende der Welt.
THE RIDERS OF THE LOST RAMP
RIDERS OF THE LOST RAMP

Daniel Dhers pensait avoir tout ridé... c'était sans compter cette rampe abandonnée au cœur de la jungle, à l'autre bout du monde. L'intégralité du trip #ridersofthelostramp ? crosscall.com/lostramp ?: JC Pieri Visual

Publié par Crosscall sur vendredi 19 mai 2017
DIE TEUFELS-RAMPE
Das seit fast 30 Jahren von allen vergessene Rätsel erreicht seinen Höhepunkt, als unser Team Shah Alam entdeckt. Laut unseren lokalen Quellen verbirgt sich hier, mitten im Dschungel, eine der rätselhaftesten Rampen der Welt. Als Daniel Dhers den alten Pisten folgt, stößt er schließlich auf den Gral.

DANIEL DHERS
Der professionelle BMX-Rider Daniel Dhers ist in seiner Disziplin einer der am häufigsten ausgezeichneten Sportler, mit 5 Goldmedaillen bei den X-Games und 3 Siegen bei der Dew Action Sport Tour. Nachdem er die schönsten Parks der Welt bezwungen hat, haben wir ihm angeboten, es mit der rätselhaften Rampe aufzunehmen. Der Rider hat die Herausforderung angenommen, aber er hat noch keine Vorstellung davon, was ihn an diesem Spot erwartet …
DER TROPISCHE DSCHUNGEL
Wenn Malaysia einen Dschungel von derartiger Schönheit verbirgt, dann ist dies seinem außergewöhnlichen Klima zu verdanken. Das Land befindet sich in den Tropen, und sein Feuchtigkeitsgehalt kann im Westen bei einer durchschnittlichen Temperatur von etwa 40°C bis zu 92% erreichen. Extreme Bedingungen für eine beispiellose Herausforderung mitten im Dschungel.
WIR KREMPELN DIE ÄRMEL HOCH
Als das Team die Rampe entdeckt, hat die Natur ausreichend Zeit gehabt, das Gebiet zu erobern. Erst nach mehreren Stunden intensiver Arbeit in drückender Hitze schaffen es die Rider endlich, den Spot von seinem Pflanzenwuchs zu befreien. Die Kurven der Rampen werden nach und nach enthüllt und zeigen die Spuren der Zeit.
ICEPICK ZULÄSSIG
Die Bedingungen sind ganz anders als in einer städtischen Umgebung. Um die Rampe zu bezwingen, die unser Champion Daniel Dhers sehr schnell "The Devil's Ramp" nennt, wird er mit einer erstickenden Luftfeuchtigkeit bei extremen Temperaturen konfrontiert. Der Zustand der Rampe zwingt ihn dazu, all seine Bewegungen zu planen, um den Spalten bei jedem Versuch ein Schnippchen zu schlagen.
ICEPICK ZULÄSSIG
Mit dem Verlassen seiner Komfortzone hat uns Daniel Dhers bewiesen, dass man jede Herausforderung bezwingen kann, wenn man seine Grenzen verschiebt. Mit Mut und Durchhaltevermögen lernt er nach und nach neue Tricks und schafft es, das atemberaubende Tier mit einem Icepick vor den Augen der bewundernden Rider zu bezwingen.
UNVERGESSLICHE MOMENTE
Das Abenteuer endet mit einem Regenguss. Die perfekte Gelegenheit für Daniel Dhers, sein TREKKER-X3 zu zücken und diese Momente mit dem gesamten Team festzuhalten. Die erfolgreiche Bezwingung der Teufels-Rampe war mehr als ein sportliches Abenteuer, sie war eine menschliche Erfahrung, die er so schnell nicht vergessen wird.
TREKKER-X3
Daniel Dhers war mit dem neuesten Gerät aus dem Sortiment von CROSSCALL ausgerüstet, dem TREKKER-X3, das zur Analyse und Erfassung jeden Geländes mit zahlreichen Sensoren ausgestattet ist. Um Zugriff auf alle vom Telefon erfassten Daten zu haben, hat CROSSCALL die App X3 SENSORS entwickelt, die bei jedem TREKKER-X3 nativ installiert ist.