FATMAP, DIE APP NR. 1 FÜR ALLE BERGSPORTARTEN
Wenn wir Ihnen eine App empfehlen würden, dann ist es diese! Die ergonomische und umfassende FATMAP ist die Nr. 1 für alle Bergsportarten.
Mit FATMAP, können Sie Ihre Routen durch das Skigebiet ganz einfach planen, dank des Tracking-Systems können Sie sich problemlos lokalisieren und orientieren und außerdem Ihre Strecken aufzeichnen. Die kostenlose Version der App, die von ortskundigen Experten entwickelt wurde, enthält eine detaillierte Beschreibung der verschiedenen Strecken (Pisten, Freeride-Pisten, Wanderwege), die es sich zu erkunden lohnt: Mit Angaben zum Schwierigkeitsgrad, Routenbeschreibungen, Geländeeigenschaften (Höhe, Distanzen, Gefälle).
Mit FATMAP EXPLORE kostenpflichtige Version) können Sie auf die offiziellen topografischen Karten zugreifen und das Gelände Schicht für Schicht analysieren, um die besten Entscheidungen zu treffen und sicher zu fahren. Sie können Ihre Karte zudem im Voraus herunterladen, um auch ohne Internetverbindung auf sie zuzugreifen und so Ihren Akku zu schonen, indem Sie die App im Flugzeugmodus verwenden.
>> Download der App aus dem Google Play Store
>> Download der App aus dem App Store  
Dank unserer Partnerschaft mit FATMAP, profitieren Sie von 30% Rabatt  auf FATMAP EXPLORE (20,99€ statt 29,99€).
Zahlreiche Wintersport orte und Skigebiete bieten inzwischen eine eigene App an: Chamonix, Serre-Chevalier, Tignes,… Neben Informationen über die Liftanlagen (Skipasspreise, Öffnungszeiten, Pistenplan) erhalten Sie alle Informationen über das "Leben" im Skigebiet : Geschäfte und Restaurants, Unterhaltungsangebote und Veranstaltungen und Verkehrsangebote Ein weiteres Plus: Webcams, die die Bedingungen in Echtzeit zeigen, und eine Registerkarte "Rettung", die Ihre Geolokalisierung auf präzise (Breiten- und Längengrad) an die Rettungsdienste des Skigebiets übermittelt. Einige Skigebiete wie Chamonix informieren Sie zudem über den Zustand der Routen und bieten einen direkten Zugriff auf Ski+ um Ihre Leistungen aufzuzeichnen und Ihre Freunde auf der Piste herauszufordern!
Um optimal von Ihrem Aufenthalt zu profitieren und Ihre Aktivitäten und Reisen zu planen, sollten Sie nicht vergessen, sich eine gute Wetterberichts-App auf Ihr Telefon zu laden! Auch hier ist die Auswahl groß. Vor einigen Monaten haben wir Ihnen insbesondere 3 empfohlen: Weather Forecast, Accuweather und Windy. Lesen Sie den vollständigen Artikel here.
UND VOR ALLEM: WÄHLEN SIE EIN SMARTPHONE, DAS DER KÄLTE WIDERSTEHT!
So weit, so gut, Sie haben jetzt vielleicht alle diese Apps, aber vor allem brauchen Sie ein Telefon, das sich nicht abschaltet, sobald die Temperatur unter Null sinkt! Entscheiden Sie sich also für ein Smartphone von CROSSCALL, einen zuverlässigen Begleiter, der Sie auf den Pisten in der Höhe nicht im Stich lässt. Unsere Smartphones wurden für den Einsatz bei extremen Temperaturen entwickelt: -25° für CORE-X3 und ACTION-X3 und bis zu -40° für TREKKER-X4. Und wenn Sie die Entscheidung treffen müssen, die Nacht in einer Schutzhütte zu verbringen, können Sie die Nutzungsdauer dank des externen Akkus X-POWER, verlängern, der die Akkulaufzeit Ihres Smartphones verdoppelt.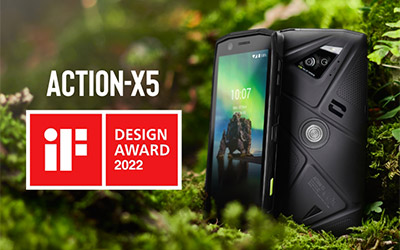 Das ACTION-X5, Crosscalls neuestes Smartphone mit integrierter Action-Cam, hat den renommierten iF Design Award 2022 in der Disziplin "Produktdesign" in der Kategorie "Telekommunikation" gewonnen.
To coincide with launch of the CROSSCALL Class40 monohull, the French mobile brand has unveiled a sleek new look. Developed in collaboration with the Saatchi & Saatchi advertising agency, the new brand identity focuses on two key aspects of Crosscall's DNA: difference and durability.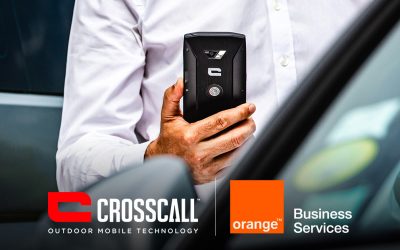 Im Rahmen der Ausschreibung des französischen Innenministeriums haben sich die Gendarmerie und die Nationalpolizei für die Lösung von Crosscall und Orange Business Services entschieden, um ihre Einsatzkräfte auszurüsten und zu vernetzen.