ISABEAU COURDURIER, WELTMEISTERIN IM ENDUROSPORT
"Mein TREKKER-X4, ich habe ihn immer bei mir: beim Training, auf der Straße oder auf dem Trail. Es erlaubt mir, mich zu orientieren und meine Wege zu verfolgen, so dass ich anschließend meine Leistung auf meinem CORE-T4-Tablett analysieren kann. Bei Wettkämpfen wechsle ich auf den SPIDER-X4, der leichter und kleiner ist. Manchmal nehme ich auch beide Telefone mit, wenn ich alleine auf ein Abenteuer gehe: Mein TREKKER-X4 ist dank des X-BIKE am Vorbau meines Fahrrads befestigt und mein SPIDER-X4 in der Vordertasche meines Camelback. Warum? Um auf der Nummer sicher zu gehen, falls ich vom Fahrrad falle und mich in einer heiklen Situation befinde, in der ich mich nicht mehr bewegen kann".

CEDRIC GRACIA MOUNTAINBIKE-LEGENDE
"Es ist ganz einfach, ich brauchte ein Telefon, mit dem ich alles machen kann und das mehrere Schocks einstecken kann. Mit meinem TREKKER-X4 fahre, filme und arbeite ich. Es ist wirklich schön, immer alles zur Hand zu haben: meine Fotos, meine E-Mails, meine Kontakte, meine Videos, wo immer ich bin und sogar in den feindlichsten Umgebungen."

NICOLAS QUÉRÉ WELTMEISTER DER ENDURO-E-BIKE-SERIE
"Früher zerbrach ich sechs Telefone im Jahr. Jetzt habe ich seit 18 Monaten dasselbe Telefon, ein Rekord! Und doch hat er viele Abenteuer erlebt dieser TREKKER-X4 : World e-Bike Series, Megavalanche, Querschläger im Pool und im Wald, … Ich kann die Anzahl der Stürze, die er hatte, gar nicht mehr zählen!"



LILIAN DAUZAT MIKRO-ABENTEURER
"Während meiner Tour de France mit dem Fahrrad war mein ACTION-X3 ein echtes Armaturenbrett für mich. An meinem Lenker befestigt, ermöglichte es mir, den ganzen Tag über meine Route zu verfolgen, mit Leuten zu interagieren, die mich auf der Strecke begleiten wollten, und sogar Musik zu hören! Regen, Stürze mit fast 40km/h …ich habe ihn nicht verschont und trotzdem hat er nicht gezuckt!"

ANTONIN LIEUTAGHI SNOWBOARDER UND GESCHÄFTSFÜHRER VON EVOLUTION 2 LA CLUSAZ
"Winter wie Sommer begleitet mich mein TREKKER-X4 bei all meinen Abenteuern. Wenn ich Mountainbike fahre, positioniere ich es dank des X-BIKE. auf dem Vorbau meines Fahrrads. Ich benutze sie, um mich zu geolokalisieren, aber auch, um Fotos und Videos zu machen, damit meine Kunden ein Andenken an ihren Ausflug behalten können. Mit der Stabilisierung des TREKKER-X4 kann ich wirklich tolle Videos machen. Ebenfalls mit dem X-CAR ausgestattet, verlade ich ihn nachts fast nie zu Hause. Mein Pendeln zur Arbeit reicht aus, um es aufzuladen und tagsüber am Laufen zu halten."

PHILIPPE JOIN LAMBERT SPEAKER, AUSBILDER UND LEIDENSCHAFTLICHER RADFAHRER
"Es ist das perfekte Werkzeug für mein SkyzoVelo-Projekt : Radwege im Umkreis von 100 km. Wenn Sie mit 50-60 km/h bergab fahren, ist es besser, ein gutes Befestigungssystem für Ihr Telefon zu haben und in der Lage zu sein, Ihren Weg im Handumdrehen zu erkennen! Der große Bildschirm des TREKKER-X4 in Verbindung mit seiner X-BIKE-Halterung sind dafür ideal. Die Autonomie des Telefons ist auch ein echtes Plus, wenn ich 48 Stunden weg bin. Normalerweise brauche ich über zwei Tage nicht einmal nachzuladen!"

wird es Ihnen auch gefallen: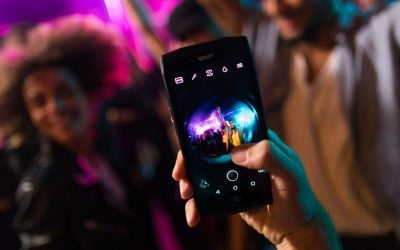 Um Ihnen den Alltag ein wenig zu versüßen, teilen unsere Botschafter ihre Lieblingstitel zum Tanzen, Entspannen oder Trainieren mit Ihnen.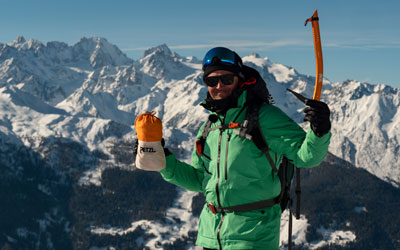 Find out Xavier De Le Rue tutorials to ride safely !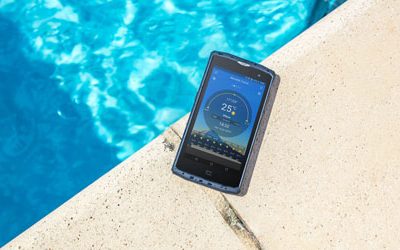 Summer has finally settled in, but to avoid any unpleasant surprises for your next BBQ party, we have selected three free weather apps for you to download to your smartphone.